Manchester is a city with an indomitable spirit and pioneering character that has transcended the Industrial Revolution. It continues to make strides forward in music, contemporary art, culture and sport – creating opportunities for people from all walks of life to come together and experience new adventures.
Here you will find endless energy buzzing through its streets as well as be welcomed by friendly locals; it was even voted one of the friendliest cities in the world.
The city centreis home to two legendary football clubs and has various art hubs, incredible shopping experiences, bustling nightlife and world-class dining.
Whatever you're looking for in a city break – Manchester will deliver. With an array of attractions ranging from the music venues that helped launch the careers of some of Britain's biggest bands to the Greater Manchester Museum that houses extensive collection from the past, present and future – there is something for all ages here.
In this blog, we'll be taking a look at the best things to do in Manchester. From the classic tourist attractions to the hidden gems that you won't want to miss, here is your ultimate guide to visiting Manchester like a local.
Best sights and attractions in Manchester
Manchester Cathedral
For over six centuries, Manchester Cathedral has served as a key landmark in its city's fascinating history. It all began with Henry V signing the royal charter allowing for its creation back in 1421. Eventually reaching even greater significance when it became an official diocesan cathedral upon the founding of a new Manchester diocese in 1847.
Manchester Cathedral stands proud in the city center, a beautiful example of neo gothic architecture and one that holds centuries' worth of natural history within its walls.
The grade I listed building has served as both Mother Church to the Anglican Diocese of Manchester and seat for the Bishop since it was established – an important monument at which countless lives have been celebrated over time.
Visitors of Manchester Cathedral can take guided tours and explore stained glass windows, statues, and tombs. There's also a café for refreshments.
John Rylands Library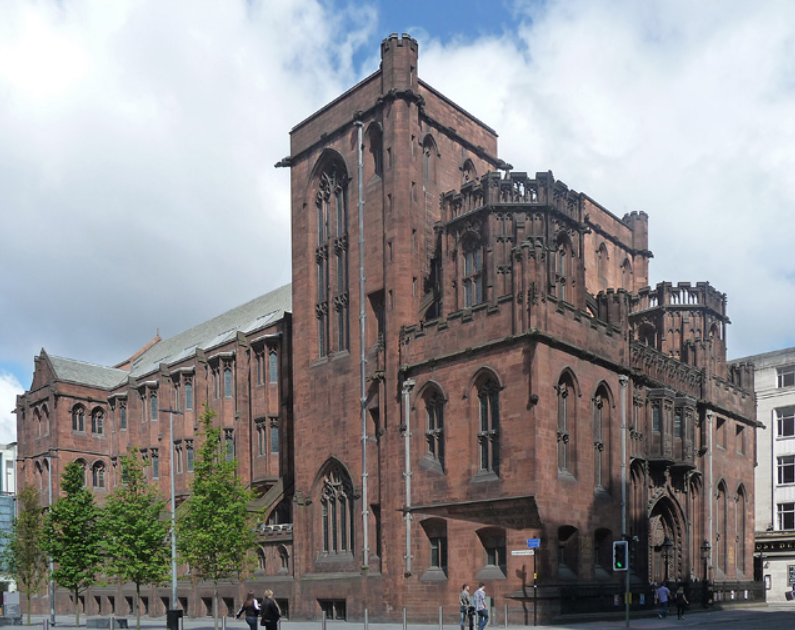 Constructed in a stunning late-Victorian neo-Gothic style, the John Rylands Research Institute and Library is an iconic landmark on Manchester's Deansgate.
Established by Enriqueta Augustina Rylands as a tribute to her husband John after his passing, this beautiful building has continued its legacy of providing access to knowledge for over 120 years now.
John Rylands Library became one of the University Of Manchester library branches back in 1972; today serving as home to some of their most prized Special Collections – amounting to quite possibly being Britain's third largest academic free public library.
John Rylands Library is a must-visit for any bibliophile, as well as anyone looking to explore the architecture of this grand building.
Manchester Art Gallery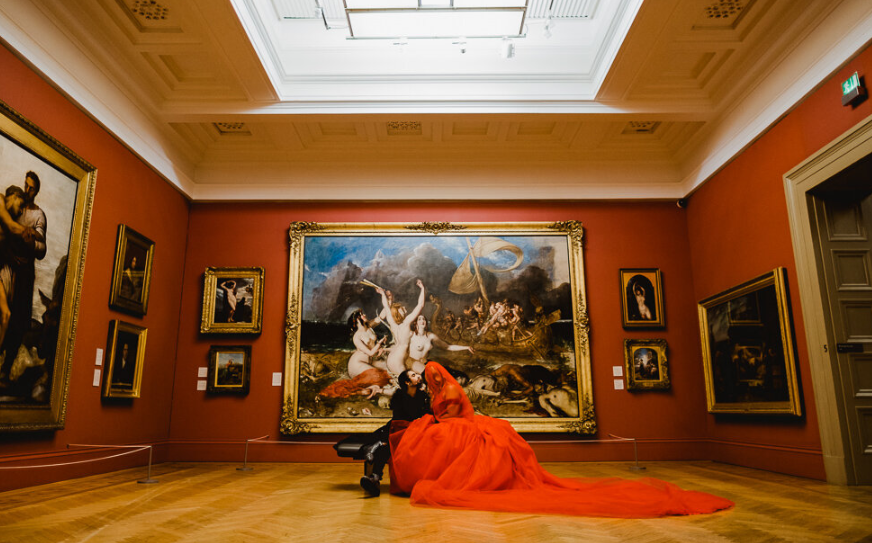 Manchester Art Gallery, established as Manchester City Art Gallery in 1823 for a learned society, has evolved over centuries to become one of the most renowned art museums.
Three grand interconnected buildings designed by Sir Charles Barry display an exquisite collection that stands a testament to culture and creativity.
The gallery includes works from Picasso, Monet and Turner as well as the largest collection of Pre-Raphaelite art in Europe.
Manchester Art Gallery has grown in popularity over the years, becoming one of the foremost attractions for art lovers worldwide.
With a collection boasting more than 25,000 objects from local and international artists alike – including works of significant historical importance – it's no wonder that half a million people visited Manchester Art Gallery within 12 months!
Open Tuesdays to Sundays each week with free entry all year round, there's never been an easier way to step into some culture while exploring Manchester city centre.
Manchester Town Hall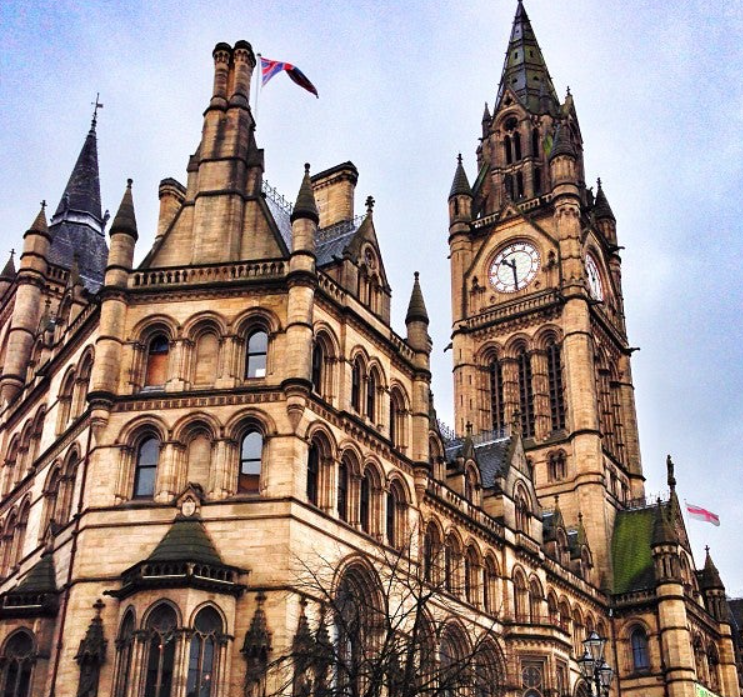 Manchester Town Hall stands as a proud landmark in the heart of Manchester city, England. Built in Victorian Neo-gothic style by architect Alfred Waterhouse, it is home to very important departments within local government and oversees all aspects with grandeur from Albert Square on its north side and St Peter's Square to the south – not forgetting Manchester Cenotaph which commands attention at its entrance.
Completed in 1877, the grand Town Hall of Manchester was designed by Alfred Waterhouse and contains many magnificent ceremonial rooms such as the Great Hall adorned with Ford Madox Brown's regal murals depicting local city's history.
The two covered bridges connecting it to its 1938 extension are guarded on either end by busts and statues honouring influential figures like Dalton, Joule, Barbirolli – whilst at a towering 280 feet high – looms over them all is 'Great Abel', an iconic clock bell. In 1952 it received Grade I listing status; solidifying this impressive building into local folklore for generations to come.
National Football Museum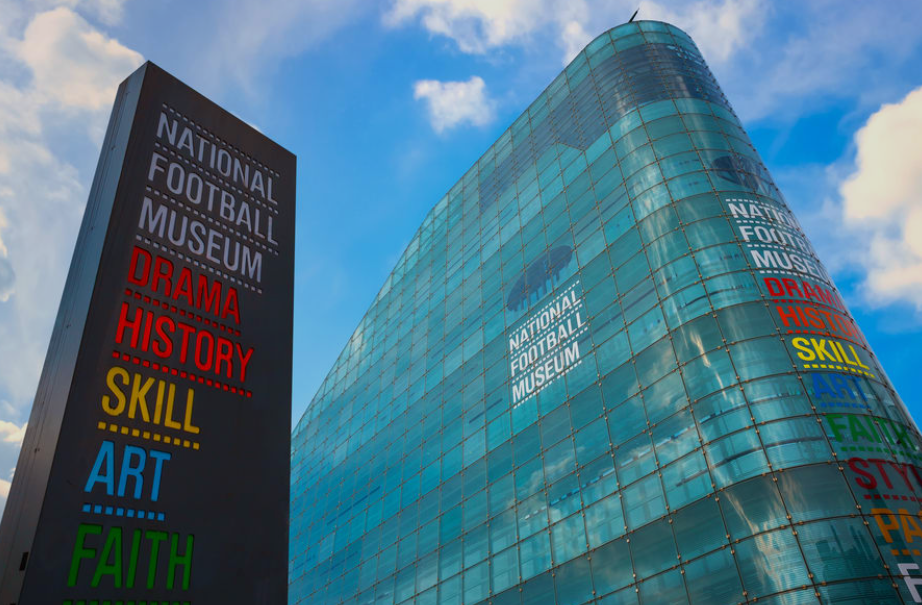 Experience the ultimate football sports fans experience in vibrant Manchester! The National Football Museum is a must-visit for all sports aficionados, open from Wednesday to Sunday.
Bring your family and friends along with you on an exciting journey through the history of this beloved game.
Take a journey into the extraordinary history of football – from Geoff Hurst's iconic red World Cup shirt to Diego Maradona's Hand of God jersey and even Lily Parr's statue as an ode to women in sport.
Step inside this incredible exhibition celebrating the beautiful game that has captured our hearts for generations.
The National Football Museum offers an exciting array of trails and activities for the whole family to explore, with something new to discover during every weekend and school holiday!
Lake District National Park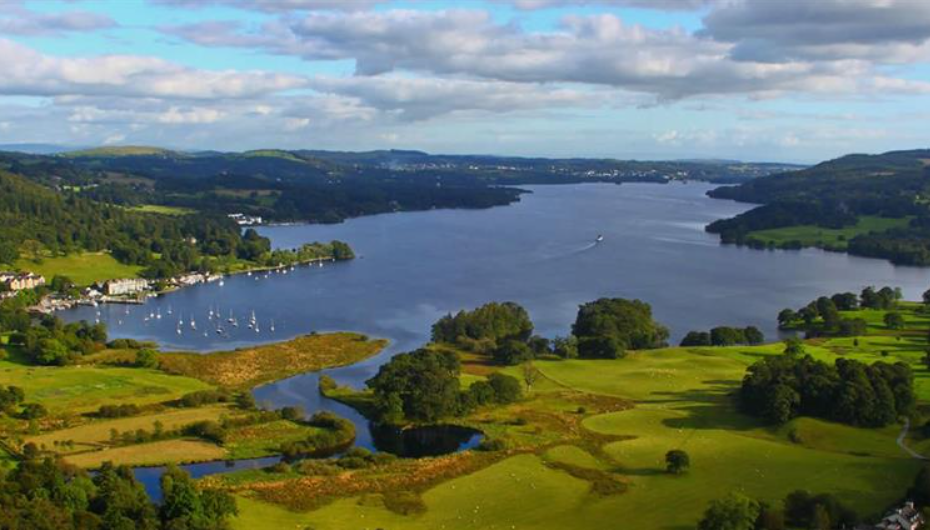 A trip to Manchester isn't complete without a visit to the majestic Lake District National Park – home of Windermere, England's largest lake! Here you'll be immersed in breathtaking landscapes and quaint towns.
To make the most of your time, consider joining an organized walking tour that will take you through all this beauty with ease. From hikes in high-altitude areas to boat rides across Windermere, the Lake District will give you an unforgettable experience.
Manchester Museum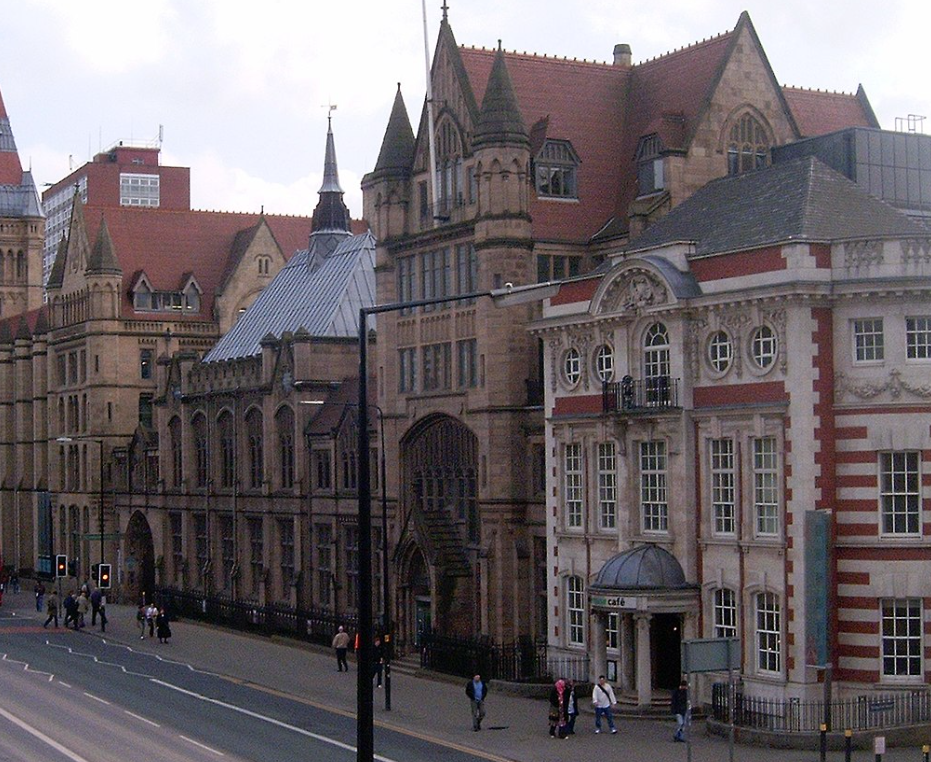 With a history spanning over 130 years and collections boasting nearly four-and-a-half million artifacts, Manchester Museum is one of the largest university museums in the UK.
Designed by 19th century architect Alfred Waterhouse, this iconic neo Gothic building provides education to guests on natural sciences and human cultures as well as serving an integral role in furthering research infrastructure within the city center today.
The Manchester United Museum & Trafford Stadium Tour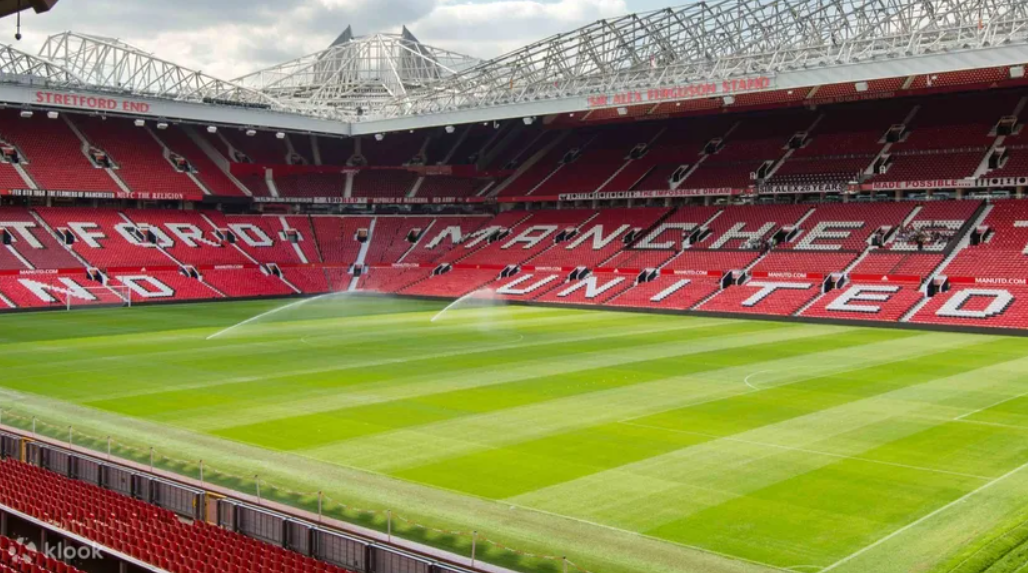 Immerse yourself in the illustrious natural history of Manchester United and feel what it's like to be part of one of the world's most iconic clubs.
Take a walk through Old Trafford stadium, sit where legendary managers have sat before you, pass through players' tunnel leading up to pitch side seats; each experience taking you closer towards living your wildest footballing dreams.
The tour also features interactive experiences, so you can learn more about the club and its famous players. A definite must-do for any Manchester United fan!
The Manchester Museum & Stadium Tour is the most immersive tour experience in Premier League football that will bring an unforgettable story alive – don't miss out on this chance for a truly remarkable journey.
Manchester Jewish Museum
One of the best things to do in Manchester is to discover the rich history of Manchester's Jewish community at the newly-renovated and extended Manchester Jewish Museum. Housed in a grade II* listed building, originally opened as a synagogue in 1874, it was transformed into an incredible museum experience after being reappropriated for this purpose over 35 years ago.
Enjoy interactive exhibits designed to tell captivating stories from 200 years of local settlement while exploring its many displays – with plenty more additions since its £6 million pound redevelopment earlier this summer.
A visit promises something new each time you come back: convenient vegetable café on site and learning studio/kitchen make sure there's always something interesting around every corner!
Science and Industry Museum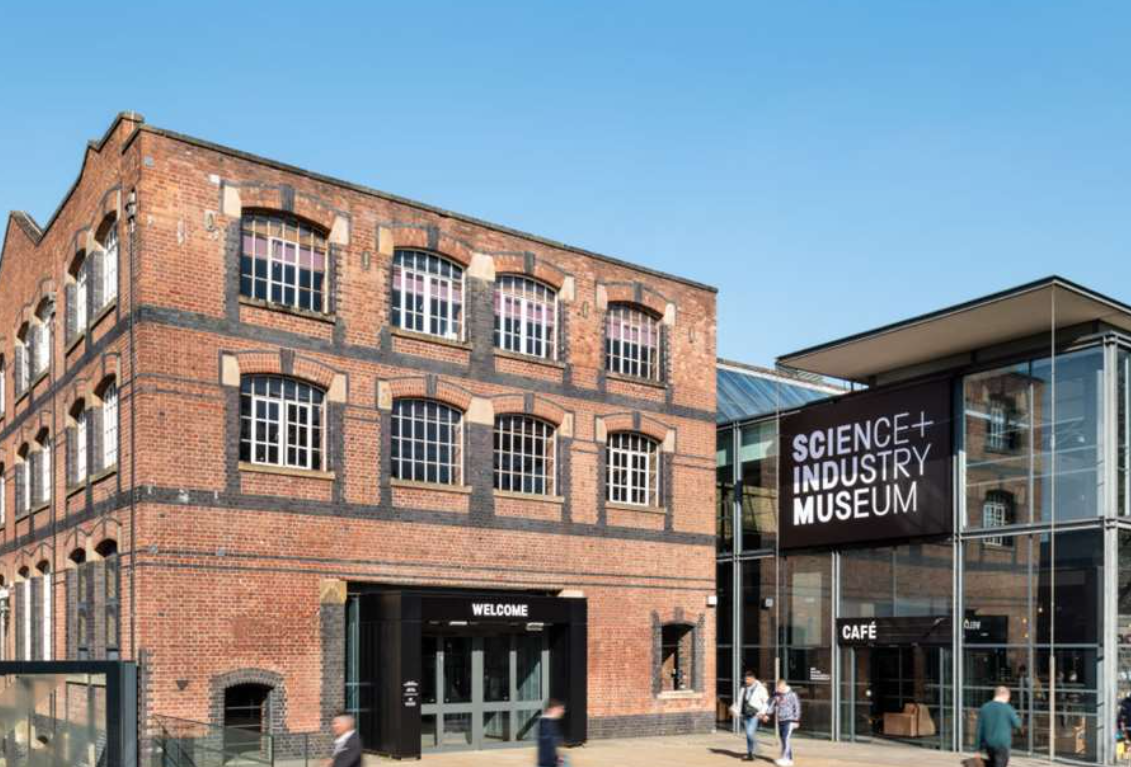 Manchester's Science and Industry Museum takes visitors on a journey of innovation, charting the city's accomplishments in science, technology and industry through timelines depicting its development.
From transport to power production – cars, railway locomotives and rolling stock to water management systems – the Science and Industry Museum showcases Manchester's advancements that have revolutionized our lives today.
Textiles manufacturing as well advances into communications technologies are also explored at this unique attraction which is part of an international network managed by Britain's Department for Digital Culture Media & Sport.
Manchester's Royal Exchange Theatre
The Royal Exchange Theatre is the beating heart of Manchester's one-of-a-kind cultural scene. Drawing audiences from across the North West, it produces bold and imaginative theatre in its unique 'in-the round' space as well as locations throughout this captivating city – offering something special to everyone!
Piccadilly Gardens
Piccadilly Gardens is a vibrant green oasis in Manchester city center, England. Taking its name from the nearby street Piccadilly that bridges together Market Street and London Road, this public park has become a meeting spot for locals to relax amidst and exploring nature while taking advantage of convenient transportation with an adjacent bus station and tram stop.
Originally transformed into an ornamental sunken garden after the first world war on what was formerly occupied by the Manchester Royal Infirmary, it underwent another metamorphosis at the hands of Japanese architect Tadao Ando who remodeled it as we know it today complete with water features and concrete pavilion structures.
People's History Museum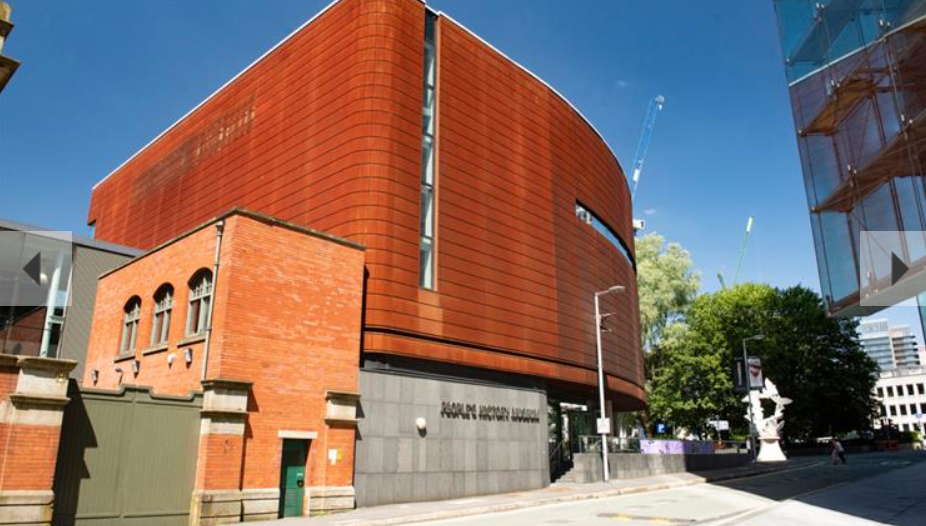 People's History Museum (PHM) is a place where democracy comes alive! Its inspiring annual program demonstrates how ideas such as equality, social justice and fairness have taken shape in Britain throughout history while encouraging visitors of all ages to get involved.
Through interactive activities, dynamic temporary exhibitions and thought-provoking events, People's History Museum invites everyone to explore the idea that together we can make this world even better.
Albert Square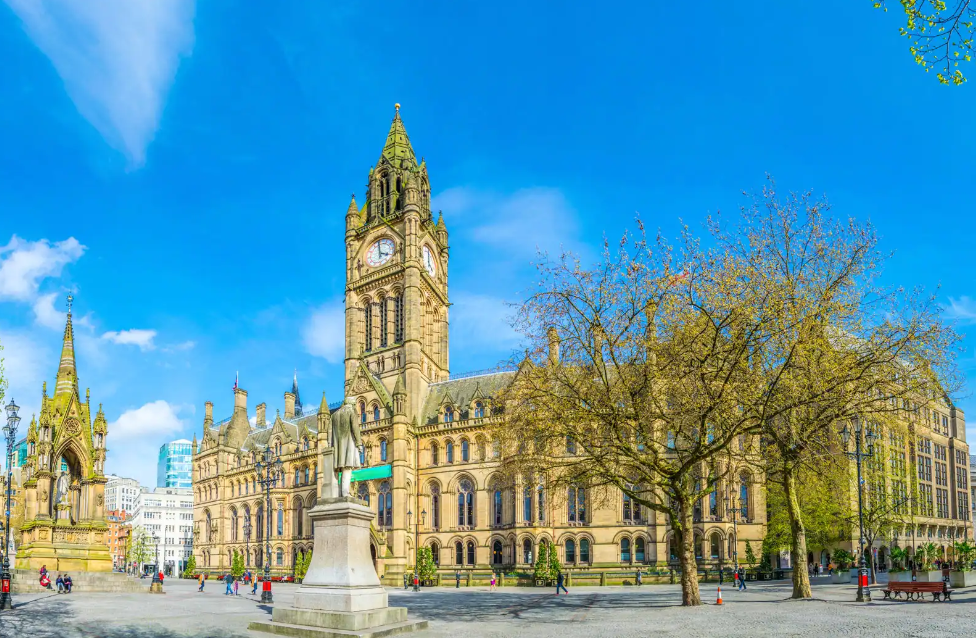 Albert Square is a one-stop destination for exploring the exceptional history of Manchester. Here, you will find yourself transported centuries into the past with an array of monuments and buildings that date back to as far as the 19th century – most notably being its iconic town hall.
Learn more about this fascinating city in just 30 minutes to an hour or take your time by lingering around; however long you choose to stay, Albert Square promises both insight and entertainment.
The Gay Village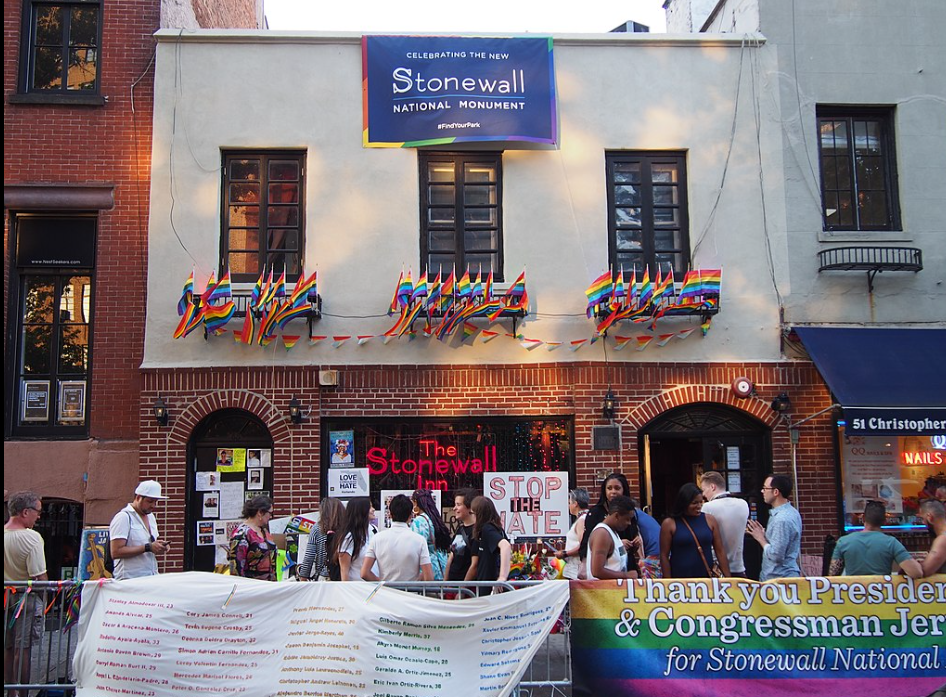 One of the best things to do in Manchester is to visit The Gay Village. It is located around the vibrant district of Canal street, Manchester that is bustling with a lively gay community that offers myriad nightlife scenes and venues for both members and allies of the LGBT+ crowd. In Gay Village, you can find everything from bars to clubs, street food and restaurants and more open late into the night in Canal Street.
Not to mention, the area offers plenty of options for day-time fun such as visiting museums and art galleries. Additionally, the Gay Village is home to a number of boutique shops selling unique fashion items and souvenirs that are sure to make your trip memorable.
The Cathedral Gardens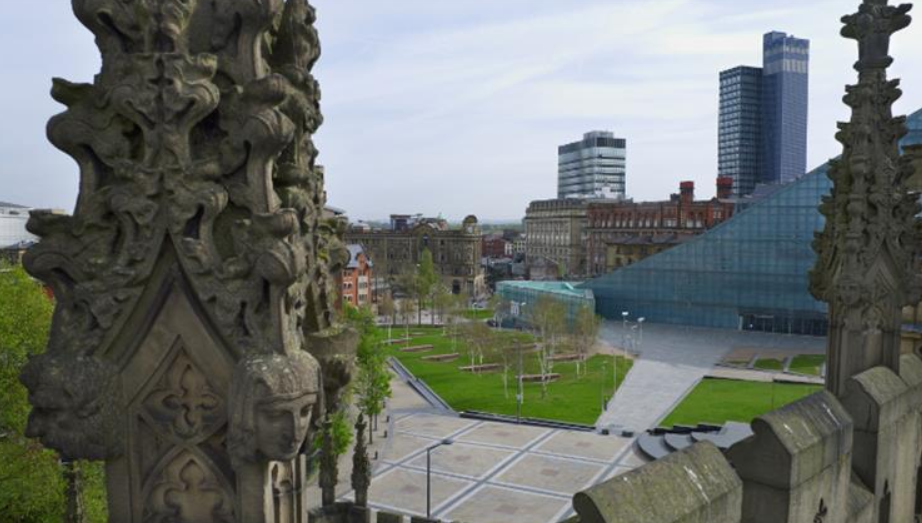 Cathedral Gardens is a tranquil haven located in the hustle and bustle of Manchester city center, between Manchester Cathedral, Chetham's School of Music and National Football Museum. This open space has been transformed with natural stone paving and lush lawns surrounded by mature trees to create an idyllic oasis for visitors to enjoy.
Embodying the ever-changing aspects of nature, a £500,000 water feature designed specifically for this garden stands at its core. Its captivating designs reflect the four seasons in all their glory. The gardens also offer a superb backdrop for festivals, events and activities held throughout the year.
Be sure to check out Cathedral Gardens if you are looking for a calm break from exploring Manchester's lively city centre. Whether it is strolling around the tranquil pathways or sitting back and enjoying the magnificent water feature, this garden provides an escape from the urban buzz and a perfect place to relax.
The Trafford Centre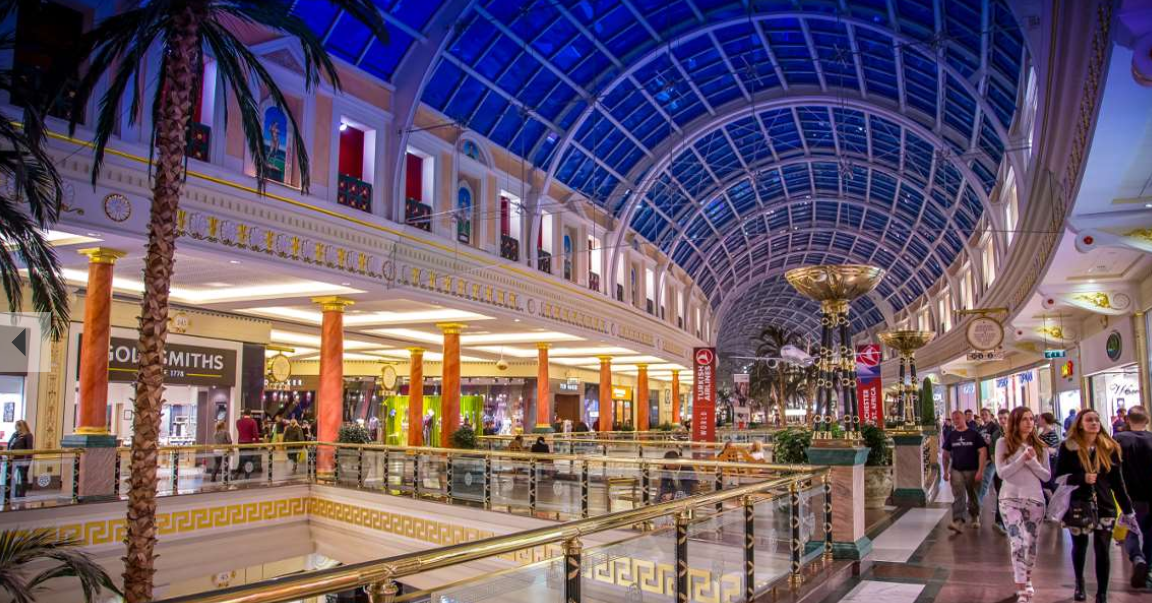 With beloved brands such as Selfridges, Stradivarius, Pull & Bear, Victoria's Secret, Primark and Khaadi just to name a few – the Trafford Centre offers something for everyone! You might even make new discoveries of your own. Come explore and find that perfect shopping experience you've been searching for.
If you're one of those people who loves a big day out shopping, then ODEON IMAX is the perfect place to experience the latest blockbuster. Or if you fancy more aquatic adventures, head on over to SEA LIFE and explore its deep-sea wonders! Legoland Discovery Center also provides an exciting family outing – coupled with Laser Quest and Namco Funscape activities, visitors can look forward to a thrilling weekend ahead.
With over 60 delightful restaurants, such as the newly-added Bill's, Five Guys, LEON and wagamama to choose from when cravings arise, guests will be in culinary heaven.
Pre-bookings for coach groups are offered incredible deals with an exclusive book of treats and discounts, as well as a meet and greet with the friendly customer services team.
At The Trafford Centre, you can even request a guided tour tailored to your group's needs or a behind the scenes look into how it all works.
The Palace Theatre in Oxford Street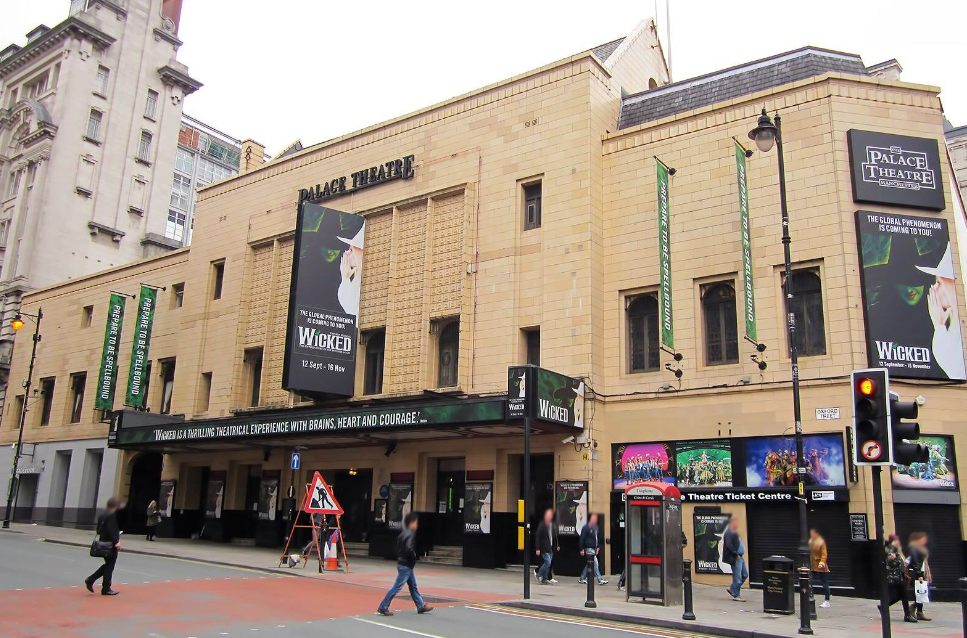 Steeped in history, The Palace Theatre Manchester is one of the oldest and most renowned theatres in all of Manchester, England. Constructed over a century ago in 1891, this iconic theatre has been through numerous transformations since it first opened its doors; yet still continues to draw some of the greatest performers from around the world and stands today as an emblematic symbol for Entertainment within Manchester.
When it opened in May 1891, The Palace Theatre Manchester was referred to as "The Grand Old Lady of Oxford Street" and had a cost of £40,500. Built by architect Alfred Darbyshire, the theatre emanated grandeur with its seating capacity for 3,675 guests!
As the first performance on stage displayed Cleopatra – a ballet show – hundreds attended that night's opening ceremony at this magnificent venue.
After its successful opening night, the Music Hall theatre saw an impressive procession of great artists take to their stage over the next twenty years – Harry Lauder and Marie Lloyd, Little Tich and Lillie Langtry, Charlie Chaplin and Vesta Tilley.
However, despite this success it struggled for several years due to a succession of failed presentations. As soon as they began admitting more popular performers however it immediately enjoyed financial prosperity once again!
At the beginning of the twentieth century, renowned stars like Judy Garland, Gracie Fields, Danny Kaye, Noel Coward, Laurel and Hardy and Charles Laughton filled stages of the theatre.
Architect Bertie Crew renovated it in 1913 lowering its capacity to 2 600 seats during seven months until Harry Houdini's reopening that same year. This marked a new era for this great performance venue with outstanding success!
Currently, this venue can accommodate 1,955 guests across three levels: Stalls, Circle and Grand Tier.
Whitworth Park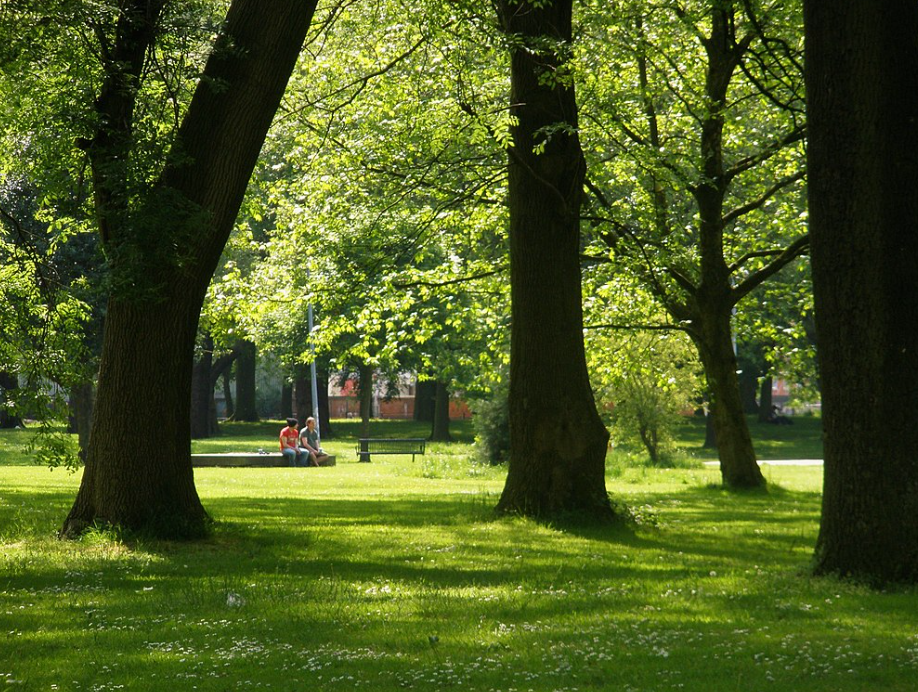 One of the best things to do in Manchester is to visit Whitworth Park. Home to the celebrated Whitworth Art Gallery, is a picturesque public park of 18 acres located just north of the University of Manchester's student residences. It was originally part of Chorlton on Medlock but now resides in Moss Side ward.
The Corporation of Manchester obtained this land – known as Potters Field – through a 1000-year lease with only a £10 annual rent from its Trustees in October 1904 and opened it soon thereafter for all to enjoy!
In 1913, a magnificent bronze statue of King Edward VII by renowned sculptor John Cassidy was unveiled on the east side to commemorate his royal visit when the new Royal Infirmary opened in 1909.
This impressive work of art is mounted atop a square granite plinth and pedestal, and has been given Grade II listed status for its cultural significance.
In the park, a commemorative plaque by artist Cornelia Parker alludes to an alleged meteor crash on Friday 13 February 2015 – when in reality, it is just 'Blakeian Abstract', one of her custom-made art pieces for Whitworth Art Gallery's grand opening in February 2015.
Join the parade at Manchester Pride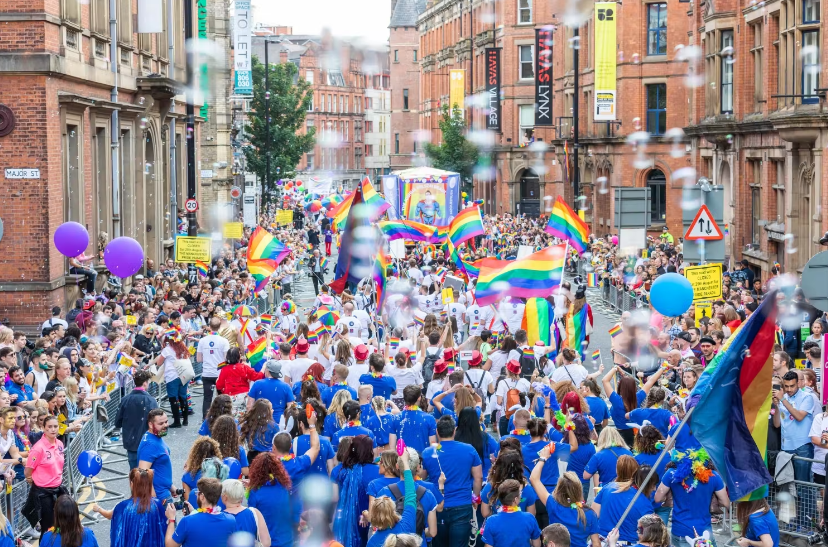 Manchester Pride Festival is an event that celebrates the queer community, their unique culture and expression in a bold manner. During the August Bank Holiday weekend, various activities will be held – some of which are free to attend while others require tickets for entry.
The event encourages members of the LGBTQ+ community to come together and proudly display who they are without any fear or discrimination.
From live music to drag shows, parades and art exhibitions – the festival houses countless activities for all! Yet, one that stands out amongst them is Manchester Pride Parade.
Every Saturday night sees a spectacular parade of loud colors and mesmerizing costumes which are sure to captivate anyone who lays eyes on it.